Aloo (Potato) Sabzi
Ingredients
5 Potatoes
1 teaspoon cumin seeds
1 teaspoon garam masala
1/2 teaspoon turmeric
1/2 teaspoon mango powder
Salt and pepper
3 tablespoon cooking oil
Optional:
1/2 teaspoon green chilli or flakes or powder
1/2 teaspoon Mustard seeds
Carrot or other veg of your choice.
Method
Chop the potatoes and any other veg you are using.
Heat a tablespoon of oil in a pan. Add cumin seeds and mustard seeds if using.
Add turmeric powder, salt, garam masala and any other spices you are using.
Add green chilli if using.
Add potatoes, stir altogether and fry for about 1min before reducing the heat to medium. Add mango powder if using and mix together.
If it is sticking, add a small amount of water.
Put on a lid and leave to cook until the potatoes are soft (approx 15 mins).
Serve as a side dish or as a simple meal with chapatis.
Equipment
Chopping board & knife
Wooden spoon / stirring utensil
Frying pan Teaspoon / teaspoon measurer
Tablespoon / tablespoon measurer
More Useful Information
Serve as a side dish or as a simple meal with chapatis.
Watch Jita making this recipe on the Unit 11 KVDT YouTube.
See our other recipes on Leeds Recipe Hub here.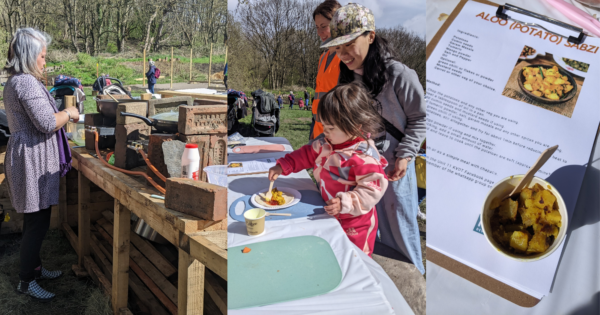 "For our Healthy Holidays programme, we shared this recipes as part of a cooking pack so all the ingredients were measured out for them already!"