Research on the impacts of Food Hubs
This page outlines the project: Food Hubs for food security, health, inclusive growth and sustainability. This project aims to demonstrate and eventuate the impact of food hubs in Leeds, identifying their opportunities and challenges.
Food insecurity is a global issue that has a significant impact on the health and wellbeing of individuals and communities. In 2018 20% of UK households were food insecure i.e. they were unable to get enough, nutritious, affordable food. Climate change has further exacerbated the problem by disrupting food production and distribution. In response, food hubs have emerged to support people affected by food insecurity while promoting health, inclusive growth and sustainability.
Food Hubs is an umbrella term for entities that gather food from growers and suppliers, and distribute it to customers. FHs perform various activities such as food aid or surplus food redistribution, food skills training (e.g. food growing and cooking classes), community engagement (e.g. cafés and shared meals), social supermarkets, business training and advice. They often serve disadvantaged communities in deprived urban areas where fresh fruit and vegetables are not very accessible (aka food deserts), therefore performing a crucial role in addressing household food insecurity.
Food Hubs offer a range of benefits from reducing household food insecurity, to helping local, small businesses to reach markets, and helping to build 'social capital' and strong communities. Whilst such benefits are increasingly being recognised, there is no strong evidence base to build a convincing case for policy support and funding. This project came about to explore the benefits that Food Hubs bring to food systems and communities and provide the necessary evidence base make the case for policy support and funding.
PROJECT FINDINGS
Our research evaluated how Food Hubs benefit communities and the food system. We used Leeds as our study area as it has a thriving community of over 50 Food Hubs. Our interview and surveys revealed four main benefits, details below: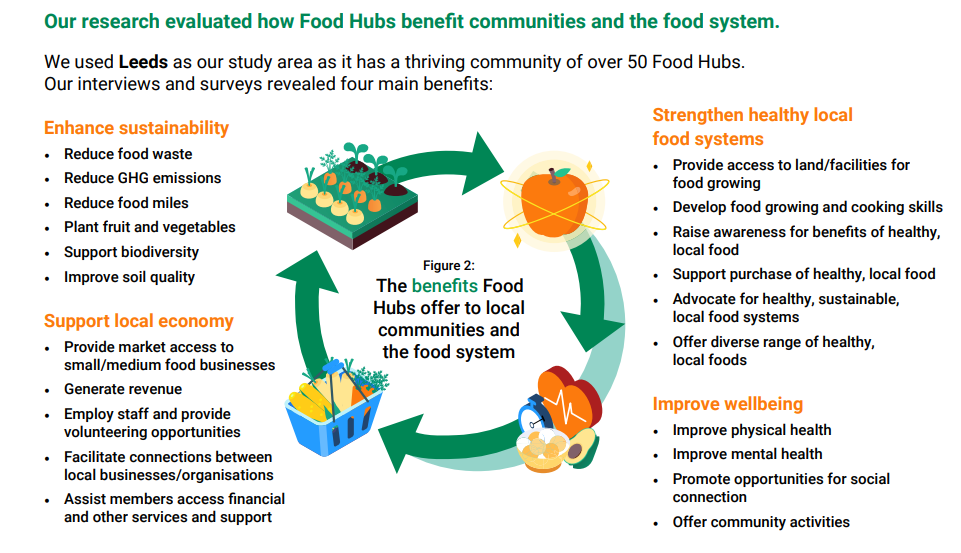 Interviews and surveys were conducted with food hubs in Leeds to identify the range of impacts that they have in their communities. Using these insights an evaluation tool was co-produced with food hubs, through focus groups and interviews. The evaluation tool was then put into practice in collaboration with food hubs. Ten case studies were produced.
WHAT'S NEXT?
Next steps are to continue to promote the use of the evaluation tool, to support more food hubs to evaluate their impacts and encourage them to move to working more sustainably.
RECOMMENDATIONS FOR UK POLICY AND FOOD ACTORS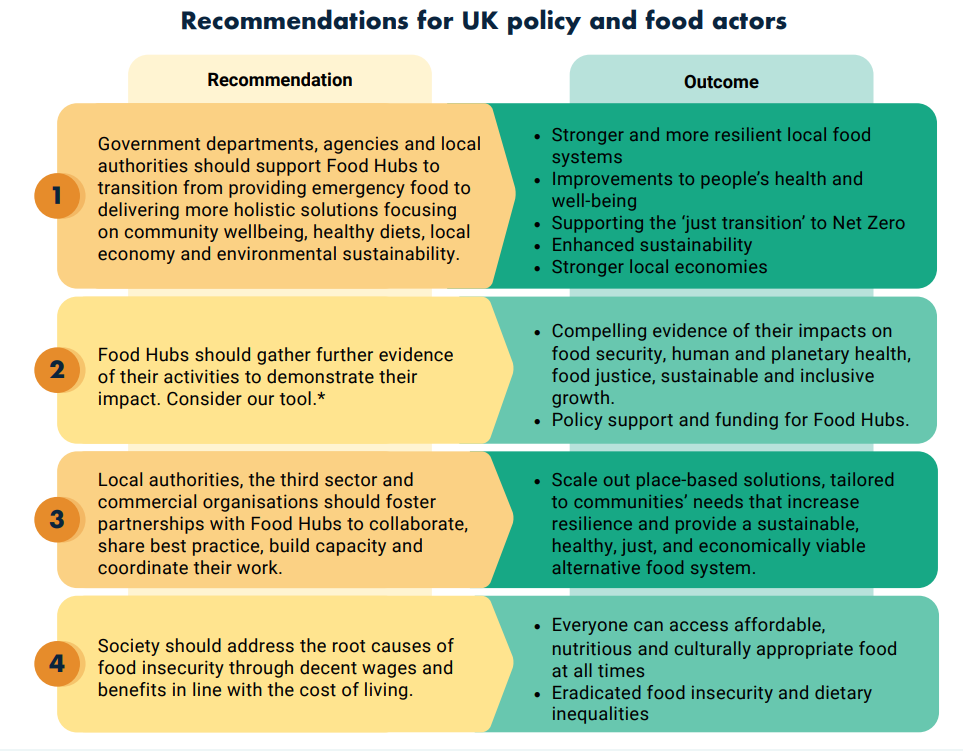 Also, if you're a food hub, check out the co-produced evaluation tool below (in PDF or Excel format) and put it into practice! 
See this project page on the UoL website for any additional information: Food hubs for Food Security, Health, Inclusive Growth and Sustainability | School of Earth and Environment | University of Leeds
This project was led by Dr Effie Papargyropoulou, in collaboration with Sonja Woodcock (FoodWise Leeds / Zest) and Dr Gemma Bridge. More information about the project can be found on the GFEI webpage. Please also see Leeds Food Strategy.
Funded by the Research England Policy Support Fund and supported by Policy@Leeds (Policy Leeds | University of Leeds)
Other projects